Photoblogging Taiwan
Please respect artist's rights. Photos may be used with written permisson only.
Yeliou

Queen's Head Rock



Rock Patterns
I couldn't resist taking this picture of the rock. I was fascinated by the different rings of vibrant colour.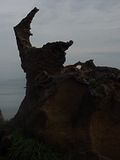 "The Can Opener"
This rock has a real name that I don't remember, but it looked like a can opener to me.

This bay was mad stunning by the green moss growing on the red rocks.

Captured in May 2005. Yeliou National Park in Taiwan.