On March 26th citizens of Taiwan marched across Taipei in protest of the "Anti-Succession Law" that China passed the previous week. Hundreds of thousands participated in the event. Many coming from outlying areas of Taiwan by busses provided by the organizers of the event in hopes of having a million protesters in the streets. The crowds could be heard chanting and singing as they took over downtown Taipei's streets for over 2 hours. Some people complained later that there were too many slogans to represent a unified voice to the world. Others made note that the earthquake in Indonesia eclipsed the Taiwanese rally and therefore it had little effect on public opinion in the West.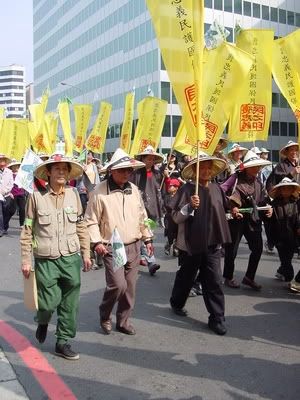 I stood on the base of a light standard to get the first photo and while I was there taking pictures of the crowd (along with other free-lance photo-journalists) they were taking pictures of me! *laughing* I may never get used to being an oddity here. When the crowd saw that I was undecorated with peace symbols I was innundated with flags, ribbons and buttons that support Taiwanese independence! Good souveniers but I was quick to put them away before I got to the school - I'm sure the situation is politically charged and I don't want to bring any controversy on myself.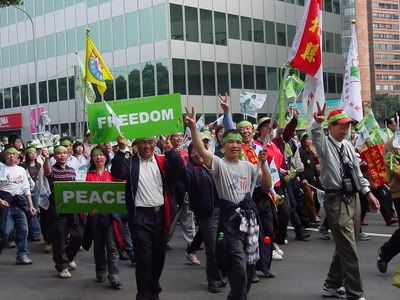 This is one of my favorite pictures. Two simple words: "Freedom" and "Peace." Have we taken them for granted in Canada? It is astonishing to see such public support for one ideal. The raw emotions and visible pride of these people for their country is very impressive.

Some witty alliteration by this signmaker at the rear of the parade.There was certainly a wide variety of sentiments expressed - all pro Taiwanese.One sign that I didn't capture clearly on film read "Commie Pigs Sod Off." You can just make out the green lettering in the right of the picture below.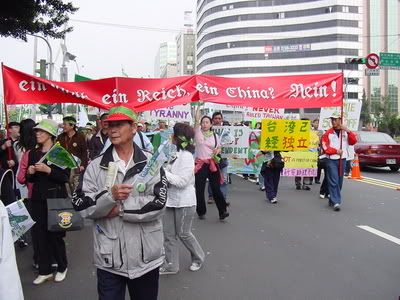 Even dogs were outfitted with flags and ribbons for the march.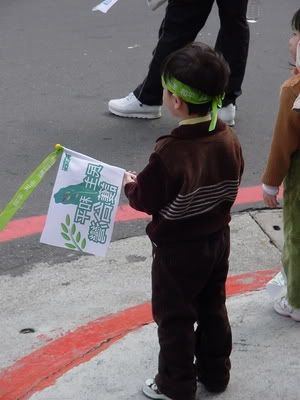 A small boy watches from the sidelines.
Another one of my favorite pictures from today.